My Gallery


My Prints


Note Me


Watch Me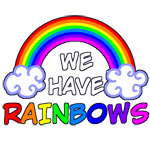 Welcome to
We Have Rainbows
! This is the place that I'm creating and selling my
Rainbow Cards
series and I hope that there is some artwork here that you love.
Commissions are currently working on an "Ask Me About" basis, as I'm going to be very busy in the near future. By all means ask, but I might have to delay or turn you down if I can't meet your requirements or deadline.
I am offering Originals, Recolours and Reproductions.

Rules


FAQs


Tumblr Page


Facebook Page


Hey guys! Sorry I've been inactive this week. I got back from Paris safe and sound, but I've been getting on with sorting out university stuff, and procrastinating by re-watching FMAB volumes 1 and 2.

But I will get to your comments and stuff tomorrow, when I have nothing I can really do because I've done nearly all available paperwork apart from reading the course modules. Deviations-wise, it's probably not going to happen. Again, I'm going to say: If you have something you'd like me to have a look at/comment on, link it in a comment. I'll see what I can get through, but I have almost 6400 deviations in my box, and that's just at-this-minute. I'll also update the features too, and if the slots aren't filled, newcomers to comment on this will get on too.
Paris was lovely. I'll upload a few photos, but not many as I took well over a thousand.
Thank you for all the birthday wishes! They are greatly appreciated, and I had a lovely day.
Ack, I'm going to university in a weeeekkkkkkkk
Love and prayers,
Lutra xx
o0o0o0o0o0o0o0o0o0o0o0o0o0o0o

First 14 people to comment on this journal will get a feature - there are rules, but I won't enforce them myself.

REQUIRED: If you do comment, you're expected to do the same in your own journal; putting me in first place, completing the list with 14 other people to make a sum of 15 people. The idea behind this is NOT to get a free feature but to help spread art and artists around for everyone.

I copied this from ~StarSubeki's journal. Here are my three favourite pieces from her:




But yes, the first 14 people to comment on this journal gets a free feature. It would be nice if you did the same, as it's good to spread the love, but I won't be hounding you down.

1.

How do I pick just three? There's so much gorgeous photography in your gallery!


2.


3.


4.


:thumb197698964: :thumb48524751: :thumb98346021:
5.


Um, this lovely, fantastic lady has her deviations in storage, so I can't really show you any of her writing... but she's amazing!
6.

(I know that last one's from your old account but still.)
7.


8.


Autumnal TreasureTime moves on day by day,
Months pass,
Seasons change,
Summer, spring, autumn, winter,
Each dies and is born anew,
Bearing gifts on its way through.

Winter with an icy chill,
Howls menacingly in the ear,
Killing the soul,
Depressing the view,
It moves on slowly,
As new hope draws closer.

In comes spring with grace and promise,
The chill lifts,
Life awakes,
British rainfall,
Easter toothache,
Both manage to ruin the image,
A season of hope and beauty,
Viewed only through rose lenses.

Summer lazily raises its head,
Holiday-makers take to the road,
Sitting for hours going nowhere,
Others laze in a garden chair,
Too hot t

A World Benath, A World BelowSitting beneath a canopy of green, white and pink I rest,
Its heavenly scent creeping down from above,
Its intoxicating tendrils embracing me as I ease in summer's paralysis.
Before me sits the great mirror,
The dark fluid holding many mysteries in its infinite depths,
Yet the surface reveals only the here and now.
The longer I gaze into this inky pool the more intense its hold over me,
Deeper in I'm pulled, my soul draining,
Merging with the dark portal lost within the deep catacombs of the underside.
Far from reach I desperately attempt to cling onto the above,
Alas it is too late.

As I plunge forever down the icy coolness ebbs

HomeHome.
The place you return to after each hard day.
The little haven offering peace and warmth.
Its happy aura and promise of security,
tempts us to enter its open mouth.
Not for me.

Home.
The place I return to after each school day.
The cold, grey box of false promise.
Its depressed expression and run-down eyes,
makes me wonder why.
Why do I enter?

Each day,
greeted by razor-sharp tongues,
belonging to harpies screeching day and night,
lashing me constantly with their voices,
driving me to misery and despair.

The sun sets,
its hopeful glow vanishing under creeping darkness.
With the darkness comes a veil of fear.
Uncertai
9.


10.


11.
12.
13.
14.


CSS by *Lutra-Gem