My Gallery


My Prints


Note Me


Watch Me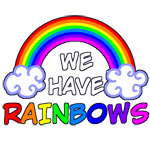 Welcome to
We Have Rainbows
! This is the place that I'm creating and selling my
Rainbow Cards
series and I hope that there is some artwork here that you love.
Commissions are currently working on an "Ask Me About" basis, as I'm going to be very busy in the near future. By all means ask, but I might have to delay or turn you down if I can't meet your requirements or deadline.
I am offering Originals, Recolours and Reproductions.

Rules


FAQs


Tumblr Page


Facebook Page


To all my lovely watchers: thank you, and I'm sorry for not being active. I'm sure you all understand that trying to settle in a university is hard, and that I have to really prioritise what I do.
I would love my first journal to have been gushing about how wonderful this university is. It's amazing, the facilities are good, the lecturers are (for the most part) fantastic and I'm involved in some great ensembles. My flatmates are lovely, and I'm very slowly starting to make friends in my classes - four of us have put together a string quartet, which is fun. I will say more on these things at a later time.
But right now I'm not in a good place. I'm in a better place than an hour ago, having had a good long cry on the phone to my parents, but it's still not good. It's the same place I was in when I moved school for sixth form, and I
know
that I can survive this. I will settle in and sort myself out, given a bit of time. I will improve at my classes. I will start to get the hang of the more complicated moves in capoeira (one of my extra things).
But I don't
feel
like I will.
Please forgive me my absence. I am still drawing, which is some good news. I'll try to upload some of the things I've done (mostly to Scraps, as they're just studies, but you know. Drawing is good. It's my me-time. My get-away-from-music time.) If you want to talk to me, I'm around enough to engage in conversation - but not enough to necessarily be able to start one. I'm sorry.
I'm awful at asking for help and support. The idea of doing it makes me want to burst into tears. I'm used to doing my best to be independent and dependable, and especially at uni it's hard to not think, "You're a big girl now, you should be able to deal with this." But, if you can spare a thought or a prayer, I'd appreciate it so much. I'll be okay in the end, but in the meantime if feels like I'm not going to be.
The hugs are too far away, for the most part.
Thank you for reading this.
I will try to have more stuff to show you soon. And a happy journal. But my course and looking after myself come first.
I hope that everyone else is healthy, happy and doing well. I do think of you guys.
Love and prayers,
Lutra xx
P.S. I'll update the features next time, okay? Immy and Gabbi, I know I need to feature you. And there are probably a couple of others too.


CSS by *Lutra-Gem