My Gallery


My Prints


Note Me


Watch Me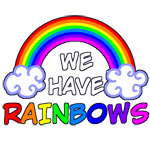 Welcome to
We Have Rainbows
! This is the place that I'm creating and selling my
Rainbow Cards
series and I hope that there is some artwork here that you love.
Commissions are currently working on an "Ask Me About" basis, as I'm going to be very busy in the near future. By all means ask, but I might have to delay or turn you down if I can't meet your requirements or deadline.
I am offering Originals, Recolours and Reproductions.

Rules


FAQs


Tumblr Page


Facebook Page


I hope that you all have a peaceful, content and blessed Christmas, that the rest of the year goes by without too much more trouble, and that 2012 is the best year so far for each and every one of you.
Love and prayers,
Lutra xx
o0o0o
CSS by *Lutra-Gem