My Gallery


My Prints


Note Me


Watch Me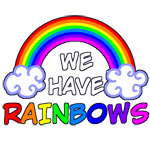 Welcome to
We Have Rainbows
! This is the place that I'm creating and selling my
Rainbow Cards
series and I hope that there is some artwork here that you love.
Commissions are:
Now on hold.

COMPLETED


COMPLETED


RESERVED



I am offering Originals, Recolours and Reproductions.

Rules


FAQs


Tumblr Page


Facebook Page


EDIT: I'm putting commissions on hold for now, as I have to make a card for my cousin's wedding, a card for a friend and a card for my mum, so effectively my five slots are full. If you have any questions, I'm still here to talk.

Hi, everyone! Commissions are still open - see the sidebar for details. Also, I don't think I got the message out, but there is now a facebook page!
[link]
However, I'm going to be putting them on hold from Monday or Tuesday, as I'm going off to London for a week for my cousin's wedding. I'll be away Wednesday afternoon until Tuesday.
Not many updates to give you, but my job working with primary school children on a music course went well, and I've injured my foot but it's just a muscle sprain - it'll get better over a few weeks.
How is everyone? I need to clear out my message centre and reply to people and stuff...

I've just been really busy with the job this week!
Love and prayers,
Lutra xx
Things to Do:
~Post off commission
~Do shopping for suitable things to wear to wedding
~Make card for cousin's wedding
~Make card for friend
~Make references for GW characters
~Get on with writing GW
~Other things I can't think of right now
xxx
CSS by *Lutra-Gem