My Gallery


My Prints


Note Me


Watch Me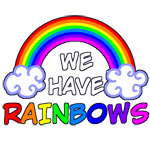 Welcome to
We Have Rainbows
! This is the place that I'm creating and selling my
Rainbow Cards
series and I hope that there is some artwork here that you love.
Commissions are currently working on an "Ask Me About" basis, as I'm going to be very busy in the near future. By all means ask, but I might have to delay or turn you down if I can't meet your requirements or deadline.
I am offering Originals, Recolours and Reproductions.

Rules


FAQs


Tumblr Page


Facebook Page


I hope everyone is doing well, and that those of you on holiday are making the most of them! I'm currently very busy helping with the Triduum, but it's gone well so far. And I've got another two weeks until I go back to Cardiff!
This is just a little update to let people know that I'm doing better now, I'm still doing well at university (it's hard work, but my marks are okay) and to wish everyone a happy Easter. I'm having a few days off of homework, and I'm hoping to get a big chunk of writing done before I go back to my uni stuff.
Also, I'm hoping to stream again on Sunday evening, this time working on a painting-type thing based on a picture I did more than a year ago and never got done. I'll try to make a post tomorrow to confirm whether or not I'll be able to do it, but provisionally it'll be at 7pm BST as usual. If I don't get on, you'll know I'm doing something with the family for Easter Sunday.
The Gemwing Tumblr page is here:
[link]
The stream is here:
[link]
Love and prayers,
Lutra xx
CSS by *Lutra-Gem