My Gallery


My Prints


Note Me


Watch Me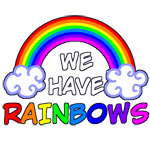 Welcome to
We Have Rainbows
! This is the place that I'm creating and selling my
Rainbow Cards
series and I hope that there is some artwork here that you love.
Commissions are:
due to reopen on Sunday 14th August.

COMPLETED


COMPLETED


COMPLETED



I am offering Originals, Recolours and Reproductions.

Rules


FAQs


Tumblr Page


Facebook Page


Forgive me if I don't read everything in my inbox; it's going to take months. I will, of course, reply to messages and stuff, but I'm not going to get through all those pictures and journals. In fact, I need to do a massive cleanout, so here's my proposal; if you have things you want me to read through and try to drop at least a quick comment on, put up to ten things in a comment (journals or pictures) on this journal, and I will get to you.
Anyway.
I have not been affected by the riots in London, thank God, despite me being there while they started. There are many things that I could say about them, but mostly it seems like mindless thuggery. If we can, we need to try to create a country (and even a world) where these people don't need to or choose to become mindless thugs. But really, most of it seems like copycats and people going out for 'fun' or to just join in without any political or social motivation.
There has been a little bit of violence in my hometown, but it's minimal despite the rumours going around on the social networking sites.
If you want to find out more about what's been happening, I recommend going through a respectable news site like the BBC, Times or Telegraph; while I'm sure that you can always say they're biased in some way or the other, listening to rumours without sources will not help or inform you.
A quick word on my time in London: it was lovely to see my grandmother again, and she really appreciates us coming down and helping her out. She's gotten very stiff recently, and that makes it hard for her to do things around the house and in the garden. She was panicking a fair bit about being ready for the wedding (my cousin, her grandson) but all was done in time without too many disasters, and the wedding went very well in the end. We saw a lot of family we haven't seen for years, and got a bit of downtime too. Also I bought Travel Cluedo at half price in Sainsburys - bargain!

Plus, my parents bought me a
Lumix TZ20 camera
as a post-A-levels present - it looks SO good!

It's a little bulkier and heavier than my current camera, but it's probably about twice as good. 14.1MPX, 16x Optical Zoom, HD movie recording... Anyway. I'm waiting for the battery to charge at the moment.
I've also managed to do a lot of work for Gemwing, and this makes me happy! I've done some drawings or writing thoughts on the characters every day in the hope that I improve and keep the creative juices flowing, and I'm having another harsh review of it so I can do a fresh draft for my mum to read and critique when she goes away with my dad and bro next weekend.
Commissions are due to reopen on Sunday - I'm going to make a few minor changes to how and when I take payment which should make it easier. I'll update on
Tumblr
and
Facebook
too, so you'll get the notifications.
I hope that everyone is well - tell me how you are!
Love and prayers,
Lutra xx
CSS by *Lutra-Gem