My Gallery


My Prints


Note Me


Watch Me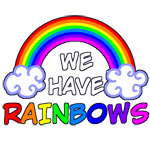 Welcome to
We Have Rainbows
! This is the place that I'm creating and selling my
Rainbow Cards
series and I hope that there is some artwork here that you love.
Commissions are currently working on an "Ask Me About" basis, as I'm going to be very busy in the near future. By all means ask, but I might have to delay or turn you down if I can't meet your requirements or deadline.
I am offering Originals, Recolours and Reproductions.

Rules


FAQs


Tumblr Page


Facebook Page


I'm guessing my apologies for being inactive are getting a bit old, huh? I am sorry though, but I struggle to find enough time to get on dA.
REGARDLESS.
I've had some upsetting news to deal with this last week or so: a friend from my old school died. We weren't the closest, but it's been a horrible shock, and after it had started to sink in I took on the task of making sure all our friends knew about it, and finding out what arrangements were being made in her memory. Today I posted off my contribution to the memorial book the school is putting together:
It's already gone up on Facebook and has the approval of my friend's mother.
I won't be able to get to the funeral, but some of our friends are thinking that we'll have our own little memorial meeting over the Easter holiday.
If you would, please keep Caitlin, her family and her friends in your prayers.
~~
I'm still doing okay at uni, though it's tough work and this last week has dropped me back in the deep end. I was expecting things to be picking up about now, you know? It's taking long enough. I'm fairly consistently getting 60-80% on assignments, which is perfectly reasonable. I'm making friends - I've realised that a little bit more with all the support they've given me. I have a lot of concerts coming up, and several deadlines.
I wish I was at home, but I'm not. I've got to stick it out, and I know I can.
I hope everyone is well.
Love and prayers,
Lutra xx
CSS by *Lutra-Gem